In "
Why Hillary Clinton Could Be the Kind of President Bernie Sanders Supporters Will Love
," Paul Waldman argues that if elected, Clinton will "be as liberal as liberals force her to be."
He points to the "Fight for 15" as a telling example. Waldman admits that Clinton was unwilling to support a $15/hour minimum wage until the struggling workers of New York City forced their legislators to recognize that hardworking people deserved something better than starvation wages.
Once those workers achieved their objective, Clinton was "proud" to stand on a stage with Governor Andrew Cuomo and celebrate their achievement as if she had something to do with it.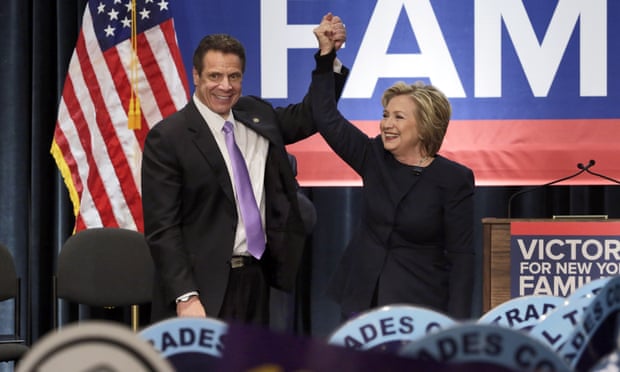 Clinton shills such as Waldman love to argue that this sort of behavior from Clinton will somehow inspire "love" from the electorate not because such shills are tone-deaf to the will of the people, but because they are tone-deaf to their own desperation.
Does Waldman understand what it means to run for president--to rely on a slogan such as "Fighting for Us"--to present oneself as a
champion
of the people?
Apparently not--so I'll explain.
The
etymology
of
champion
is available to anyone with access to the internet. Unsurprisingly, the term still means (just as it did when we started using it back in the 14th century) "one who fights on behalf of another or others."
We Sanders supporters are apparently silly because we think that the person we elect to the presidency should be willing (like Abraham Lincoln or Theodore Roosevelt) to lead the charge against any mercenaries bent on thwarting the will of the people.
But Waldman wants us to understand that Clinton can be a different sort of champion than the knight who jousts to advance a particular cause. She is perfectly willing to sip tea in her tent behind the arena while we--her putative supporters--pour out of the stands to demolish the mercenaries against whom she is supposed to joust. Once the field is littered with their dead bodies, Clinton is 100% capable of emerging from her tent to take a bow and allow us to shower her with rose petals.
Do we think that Sanders can defeat all the mercenaries arrayed against him without our active help and support? Of course not. If we're going to get anywhere with Sanders, it's only because he'll ask us to give more to the cause of reclaiming democracy than we think ourselves capable of giving. But he can inspire us to dig deep enough to do just that.
Clinton, on the other hand, will wait for
us
to inspire
her
.
Waldman's argument therefore boils down to the contention that if we citizens can solve Flint's water crisis without any help from our public officials, we'll "love" a President Hillary Clinton because of her willingness to drink the tap water once it's proven to be non-toxic.
Inspiring stuff.